I love January and the fresh start, the New Year brings. The week following New Years however, is always a crazy time for me. It is filled with hours in the kitchen and too much eating! It all starts with New Years parties, next comes my husband's birthday on the 2nd and my oldest son's birthday just a few days later. So this week I have been busy cooking, cleaning, and party planning. And now that the major parties are over, including my son's birthday party (with an insane, 17 kids), I can breathe again. And humbly say that Jen from The Consigner Designer has nominated me for the Liebster Blog Award! Thank you so much Jen!!
The Liebster Blog Award is an award that brings attention to blogs with less than 200 followers.
Here are the rules:
Choose 5 up and coming blogs of fewer than 200 followers to grant the Liebster Blog award.
Show your thanks to the blogger who gave you the award by linking back to them!
Post the award on your blog. Link back to the blogs you have given the Liebster Blog award to so everyone else can pay them a visit!
Now I get to nominate 5 blogs that I love, in no particular order!
They are:
OAK House 5 -- A blog by Kelly who has one of the most beautiful homes I have ever seen!
The Velveteen Rabbit -- A blog by Jessica who is a true inspiration because she can create a beautiful home and stay so positive despite her young daughter Maci having Leukemia.
From A to Being Creations -- A blog by Ashley who is refinishing her stairs and they are looking awesome but is SO very creative!
Stiltskin Studios -- A blog by a husband and wife duo who refinish furniture that are always GORGEOUS inspiration pieces!
Dumpster Diva -- A blog by Melissa who also transforms furniture pieces from garbage to gorgeous!
Congratulations!
Thanks again Jen!! Jen recently created a baby mobile that is gorgeous so don't forget to stop by The Consigner Designer to see it!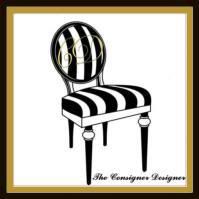 Hope your day is Fantastic!